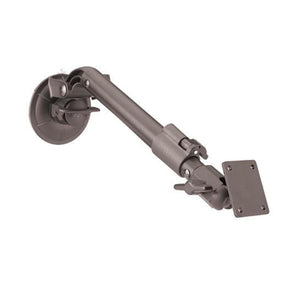 Overview
The Telescoping Suction Cup Mount is ideal for applications where there are deep dashboards, such as certain automobiles and RVs. Telescoping adjusts from 13.25-in to 18-in. To adapt for use with a PIVOT case, remove the AMPS plate and install the PPK-1 mounting plate.
Note: PPK-1 Mounting Plate NOT included.
In a hurry? Expedite processing of your order with Queue Jumper. For a full explanation of our shipping policies, Click Here.
Features
Versatile: Arm has 140° motion; knob locks arm into place. 

210° Tilt, 360° Turn & 360° Rotation

Durable: Heavy duty materials, including an aluminum alloy shaft, ensures years of worry-free use in the most demanding environments.
Telescoping adjustability from 

13.25-in to 18-in
Tech Specs
Dimensions:
Length (including shaft): 13.25-in (336.6 mm) to 18-in (457.2 mm)

Materials: 
Shaft: Aluminum Alloy
Mounting Plate: High-strength Polycarbonate
Suction Cup Assembly: High-strength Polycarbonate
Compatibility
Devices utilizing standard AMPS plate, or any PIVOT case when the AMPS plate is replaced with the PPK-1 Mounting Plate.

Documents
No supporting documentation available. Contact us for more information.