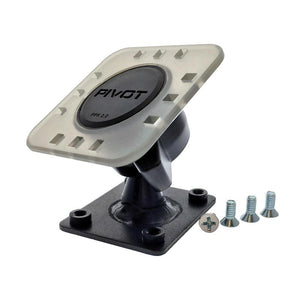 Overview
The High-Deflection Flush Permanent Mount offers a durable, low profile, permanent mounting option, with a high-deflection adapter that provides additional flexibility and device viewing angles. Can be mounted to certain aircraft yokes, instrument panels, or anywhere else that make sense based on the application. Depending on the aircraft and under what rules it is operated (Part 121, 135, etc), installation of this mount may require engineering and/or regulatory authority approval. Contact us for more details.
Note: Fasteners NOT included. See compatibility tab for compatible fasteners.
In a hurry? Expedite processing of your order with Queue Jumper. For a full explanation of our shipping policies, Click Here. 

Features
Complete Mounting Solution: Includes all hardware necessary to mount a PIVOT case in virtually any aircraft, vehicle, desktop, or other non-porous surface.
Adjustable: Supports a wide range of device orientations and viewing angles.
PIVOT Click-Connect: Quickly and securely attaches to any PIVOT case.
Durable Stainless Steel Base: Powder-coated for extra durability.
Tech Specs
Weight: 2.4 oz (68.03 g) (approx.)

Dimensions:
Height: 2.0 in (50.8 mm)
Length (AMPS Plate): 2.0 in (50.8)
Width (AMPS Plate): 1.63 in (41.4 mm)
Materials
AMPS Plate: Stainless Steel
PPK-1 Mounting Plate: Impact Resistant Polycarbonate
Compatibility
All PIVOT cases, past, present, and future.
-113, MS-24693-C48 SHOWN FOR EXAMPLE ONLY. ASSEMBLE WITH 8-32 THREADED SCREWS, X4 PCS. SCREW SPEC. AND LENGTH VARIABLE BY APPLICATION. [SEE GN4-5] ACCEPTABLE SCREW TYPES ARE AS FOLLOWS: MS-24693, MS-51959, MS-35910, MS-51957, MS-35206
Documents
No supporting documentation available. Contact us for more information.