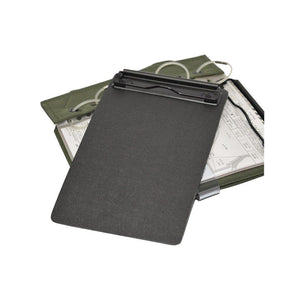 Overview
The flexible FlyBoys Kneeboard Clipboard is designed to slide into the venerable and famous FlyBoys FB1316 Classic Kneeboard and the FB3316 Reversible Kneeboard. The lightweight and durable flexible plastic construction provides an excellent writing surface and a stable platform for checklists, while conforming to the pilot's leg for maximum comfort. This clipboard is the only suitable alternative to rigid aluminum clipboards. 
In a hurry? Expedite processing of your order with Queue Jumper. For a full explanation of our shipping policies, Click Here. 
Note: The FlyBoys Kneeboard Clipboard is included in the purchase price with the FB1316 Classic Kneeboard and the FB3316 Reversible Kneeboard. This product serves as a replacement for a lost/damaged clipboard.

Features
Keep paper products secure: The robust clip at the top of the FlyBoys Kneeboard Clipboard securely holds approach plates, lineup cards, and notes in place.
Superior Comfort: The flexible plastic construction allows the clipboard to conform to the pilot's knee.
Durable: The high-quality flexible plastic used in construction will provide years of worry-free use in the most demanding environments.
Tech Specs
Dimensions
Length: 8.25 in (209.55 mm)
Width: 5.25 in (133.35 mm)
Thickness: 0.0625 in (1.59 mm)
Weight
2.63 oz (74.5 g)
Materials
Clipboard Surface: High-quality flexible SafeFlex plastic
Clip: Stainless steel, powder coated
Compatibility
FB1316 FlyBoys Classic Kneeboard
FB3316 FlyBoys Reversible Kneeboard
Documents
No supporting documentation available. Contact us for more information.