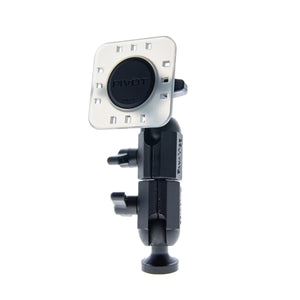 Overview
Convert any standard camera tripod/mount into a PIVOT mounting system with the PIVOT Tripod Mount. Fully adjustable with double-ball sockets that can accommodate the perfect device viewing angle for virtually any user. Adds flexibility and utility to camera tripods and devices using PIVOT cases. Order yours today!

In a hurry? Expedite processing of your order with Queue Jumper. For a full explanation of our shipping policies, Click Here. 

Features

Durable: Constructed from the highest quality aircraft-grade aluminum and impact-resistant polycarbonate to ensure years of worry-free use in the toughest environments.

Complete Mounting Solution: Includes all hardware necessary to mount a PIVOT case on virtually any standard camera tripod.
PIVOT Click-Connect: Quickly and securely attaches to any PIVOT case.
Tech Specs
Weight
0.35 lbs (159 g)
PV Double-Socket Arm: Marine-grade Aluminum

PIVOT PPK Mounting Plate: High-strength Polycarbonate

Compatibility
Standard camera tripods
All PIVOT cases, past, present, and future.
Documents
No supporting documents available. Contact us if you require more information.