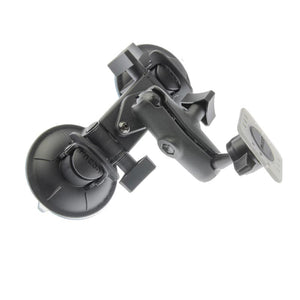 Overview
The most secure mount available to handle the most demanding operational environments. With dual locking suction cups, this mount provides peace of mind that regardless of acceleration forces or vibration inherent to certain aircraft, the mount will remain securely attached throughout the entire flight. Originally designed to meet the demands of the military and the helicopter community, and now available for all pilots who require maximum grip from their mount. Order yours today.
In a hurry? Expedite processing of your order with Queue Jumper. For a full explanation of our shipping policies, Click Here. 

Features
Double Suction Cup Mounting: Provides extra grip for applications where two suction cups are desirable, such as on highly curved surfaces or in aircraft that are prone to high vibration levels, such as helicopters.
Complete Mounting Solution: Includes all hardware necessary to mount a PIVOT case in virtually any aircraft, vehicle, desktop, or other non-porous surface.
Dual PanaVise Locking Suction Cups: Nearly unbreakable grip thanks to the mechanically activated dual-mode suction cups.
PIVOT Click-Connect: Quickly and securely attaches to any PIVOT case.
FAA Approved: Tested and approved by the FAA for use in-flight. 
(This mounting solution is highly recommended for helicopter applications)
Tech Specs
Coming Soon
Compatibility
All PIVOT cases, past, present, and future.
Documents
Installation and Removal Manual
Contact us if you need more information.