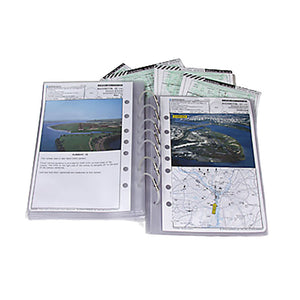 Overview
The FlyBoys Jepp Checklist Pages are designed to accommodate 8.5 x 5.5 inch Jeppesen charts and to provide extra space for larger checklist pages. These checklist pages compliment the FlyBoys Jepp Checklist Book, and is ideal when additional pages are required. Also accommodates standard letter sized pages (8.5 x 11 inch) that are folded in half. Constructed from the same high quality frosted plastic as the FlyBoys Standard Checklist Pages, the FlyBoys Jepp Checklist Pages are extremely durable, heat and cold tolerant, and capable of providing years of trouble-free use in the most demanding operational environments while providing superior protection for its contents. 

NATO Stock Number (NSN): 7510-01-631-8657
In a hurry? Expedite processing of your order with Queue Jumper. For a full explanation of our shipping policies, Click Here. 
Features
Perfect Fit: Perfectly accommodates Jeppesen Charts or standard letter sized pages that are folded in half. 

Durable: Heavy duty, heat and cold tolerant, frosted plastic pages provide superior protection and years of use in the harshest operational environments.
Tech Specs
Dimensions
Height: 8.5 in (215.9 mm)
Width: 5.5 in (139.7 mm)
Materials
Heavy-Duty Plastic
Compatibility
Jeppesen Charts, standard size (8.5 x 5.5 inches)
Standard Letter Paper, folded in half (8.5 x 11 inches)
Documents
No supporting documentation available. Contact us if you need more information.