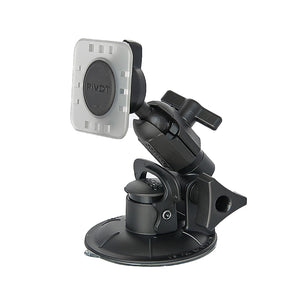 Overview
Compact version of the popular 809PPK Single Suction Cup Mount, ideal for applications where space is limited. Attaches to any non-porous surface with unshakable grip due to the Locking Suction Cup. Adjustable viewing angles. Order now!
In a hurry? Expedite processing of your order with Queue Jumper. For a full explanation of our shipping policies, Click Here. 

Features
Complete Mounting Solution: Includes all hardware necessary to mount a PIVOT case in virtually any aircraft, vehicle, desktop, or other non-porous surface.
PanaVise Locking Suction Cup: Nearly unbreakable grip thanks to the mechanically activated dual-mode suction cup.
PIVOT Click-Connect: Quickly and securely attaches to any PIVOT case.
FAA Approved: Tested and approved by the FAA for use in-flight. This exact mount is currently in widespread use throughout the airline industry and military aviation.
(The PIVOT Double Suction Cup Mount is recommended for helicopter applications) 
Tech Specs
Dimensions

Suction Cup Diameter: 3.25 in (82.55 mm)
Length: 5.00 in (127.00 mm)
Width: 3.86 in (98.43 mm)
Height (with suction cup locked): 5.25 in (133.35 mm)

Materials

PPK-1 Mounting Plate: Impact-Resistant Polycarbonate, TPU Rubber

PIVOT Dogbone Adapter: Impact-Resistant Polycarbonate

Mount Arm: Stainless Steel, Impact-Resistant Polycarbonate

Base: Impact-Resistant Polycarbonate

Suction Cup: Aviation-Grade Polypropylene

Weight
7.54 oz (213.74 g)
Compatibility
All PIVOT cases, past, present, and future.
Documents
Installation and Removal Manual
Contact us for more information.