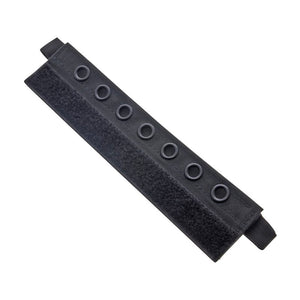 Overview
The Eyelet Strip for the FlyBoys Reversible Kneeboad can serve as a replacement for the Eyelet Strip that is included with the Reversible Kneeboard, or as an additional hot-swappable eyelet strip that allows pilots to quickly and easily switch between checklists or other publications. Helps keep checklists, inflight guides, and more, organized and ready to switch as mission requirements dictate. Simply snap the buttons together on both sides when affixing to the kneeboard, and press along the entire strip to set it in place.
In a hurry? Expedite processing of your order with Queue Jumper. For a full explanation of our shipping policies, Click Here. 
Features
Durable: Constructed from the same heavy-duty 600D fabric as FlyBoys Kneeboards.
Flexible: Seven eyelets for alignment with most checklists, inflight guides, and approach books.
Secure: Heavy-duty hook and loop fasteners and button attachments ensure the Eyelet Strip remains securely attached until the pilot is ready to remove it.
Tech Specs
Materials: 600D Fabric
Measurements:
Length: 8.25 in (209.6 mm)
Width: 2.00 in (50.8 mm)
Thickness: 0.25 in (6.35 mm)
Compatibility
FlyBoys Reversible Kneeboad (FB3316)
Documents
No supporting documentation available. Contact us if you need additional information.