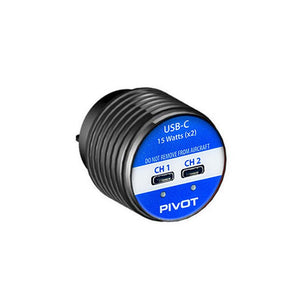 Overview
The PIVOT POWER USB flight deck portable EFB charger allows flight crews to safely charge their Electronic Flight Bags (EFB) and other approved devices in-flight, preventing EFB battery depletion during long-flights, and ensuring the EFB remains operational throughout the flight. It receives power from the aircraft 28VDC bus, rather than the 115VAC/400 Hertz outlet, and minizes Electromagnetic Interference (EMI) and maintains it within regulatory limits (DO-160, section 21, category H) for flight deck use.  The internal DC-DC circuit is 85% efficient converting 28VDC to iPad voltage and supplying 10+ watts of charging power with overload and short circuit current limit control. Each channel also has a supply power thermal fuse and a load (device such as iPad, cable etc...) fuse in the event of cable or battery short circuit. This triple protection provides fail-safe protection from an overload condition before, during and after the USB power conversion.

In a hurry? Expedite processing of your order with Queue Jumper. For a full explanation of our shipping policies, Click Here. 

Features
Portable: Install/Remove in seconds. Easy plug-in/unplug installation and removal.
Dual USB-C Receptacles: Charge two USB-C devices at once.
Low Electromagnetic Interference (EMI): By utilizing the 28VDC bus, rather than the 115VAC/400 Hz outlet, EMI is minimized well within regulatory standards for flight deck use. DO-160G EMI Lab Tested.
Tech Specs
Charging Receptacles: USB-C (2)
Aircraft Power Receptacle Interface: 12-36VDC NEMA L1-15P (Two Pin) Twist-Lock  power receptacle
Operating Temperature Range: -40°C to +55°C
Compatibility
Aircraft Power Receptacle: 12-36VDC, NEMA L1-15P (Two Pin) Twist-Lock
Device Power Receptacle Interface: USB-C
Documents