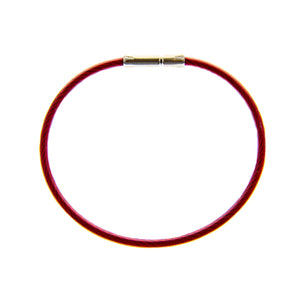 Overview
Note: Rings are sold individually. The price above is for ONE ring.
Designed to accommodate even the thickest checklists, the FlyBoys 7" XXL Checklist Rings are 2.5 inches when locked, featuring a FlyBoys-exclusive stainless steel locking mechanism. The heavy duty steel core is PVC coated, ensuring years of trouble-free use in the toughest operational environments. Available only in red. May be special ordered in clear, black, or royal blue.
Note: Rings are sold individually, not as a set.
In a hurry? Expedite processing of your order with Queue Jumper. For a full explanation of our shipping policies, Click Here. 
Features

Ultra Durable: Stainless steel locking mechanism and core, with PVC coating, ensures a lifetime of use in all environments.
Flexible: The flexible design of these checklist rings allows checklists to fit better in tight spaces, and accommodates even the thickest checklists.
Versatile: Use these rings to secure a variety of things, such as checklists, technical orders, inflight guides, keys, and more. 
Tech Specs
Dimensions 
Length: 7 in (177.8 mm)
Ring Diameter (when locking mechanisms engaged): 2.5 in (63.5 mm)
Materials
Core and locking mechanism: Stainless steel
Coating: PVC
Compatibility
Not Applicable
Documents
No supporting documentation available. Contact us if you need further information.